Spinwood Hammock




















Product description
Product description
About the Spinwood Hammock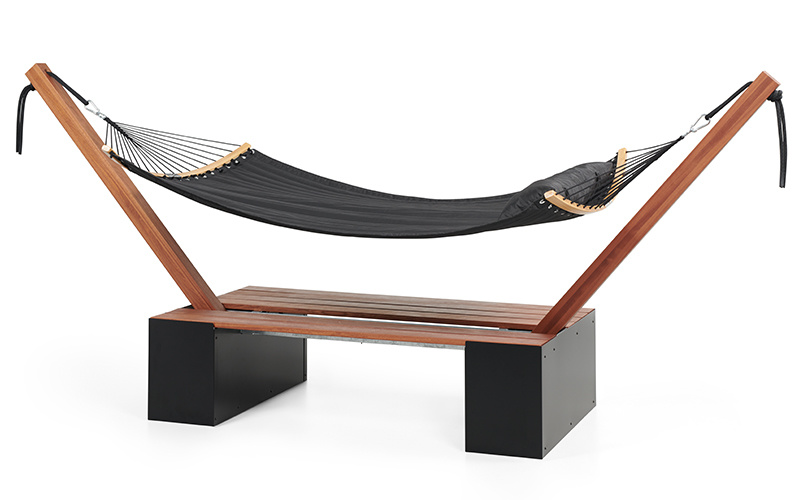 The Spinwood Hammock is a beautiful outdoor furniture for backyard or (rooftop) patio, giving your home and surroundings the typical Spinwood style and allure. Once the sun comes out, the Spinwood Hammock furniture easily transforms from bench to hammock.
Offering an unrivalled outdoor experience, this luxurious hammock is the perfect way to relax and enjoy the fresh air. Made with high-quality materials, the hammock offers a comfortable and durable outdoor experience that will last for years.
When fully folded, you have a beautiful garden bench and for more comfort, the backrest can be easily raised. When you flatten the backrest again, you can raise the two mahogany beams from the bench, and you have created a beautiful hammock stand. You hang your hammock between the beams, and you can just dream away and relax or enjoy the nice weather.
The hammock can be stored waterproof in the free supplied waterproof protective cover inside the furniture. Any cushions can also be stored in the furniture. As a result, the Spinwood Hammock Furniture offers both comfort and practicality.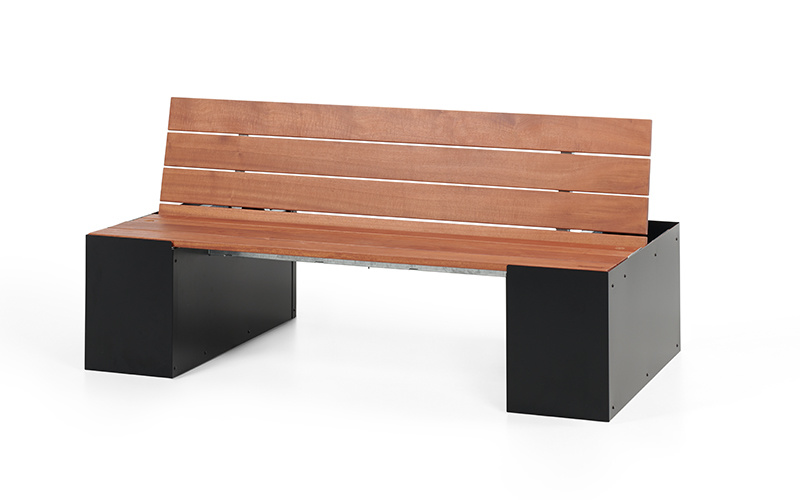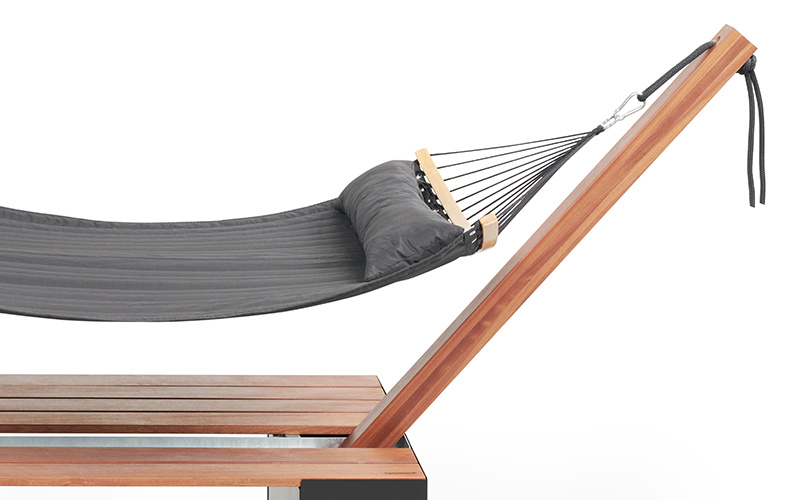 The fabric part of the hammock is made of 160g polyester material lined with foam padding for more comfort. Included with the hammock is a removable pillow. The hammock is made so that it can be easily folded in half and rolled up in the waterproof protective cover. The hammock with spreader pole ensures that the hammock will not curl around you, allowing you to lie straight in it.
Style & innovation
The design of the Spinwood furniture is not only functional, but also stylish. The sleek, modern design fits perfectly with your outdoor space and adds a touch of elegance to your garden or (rooftop) terrace.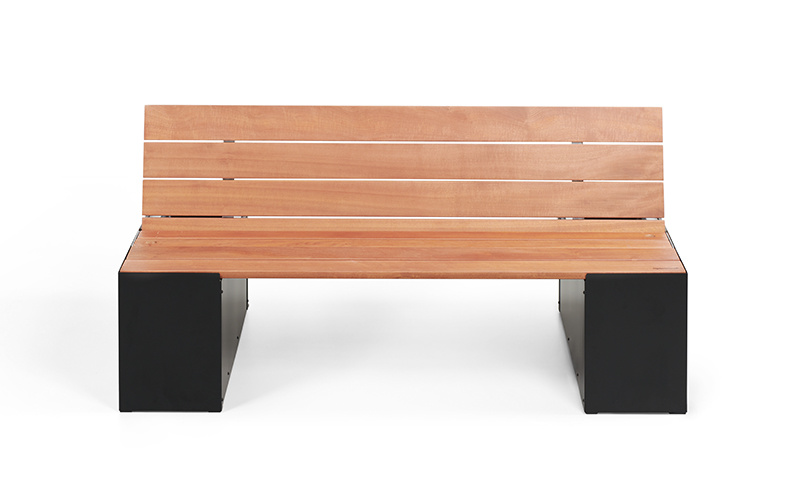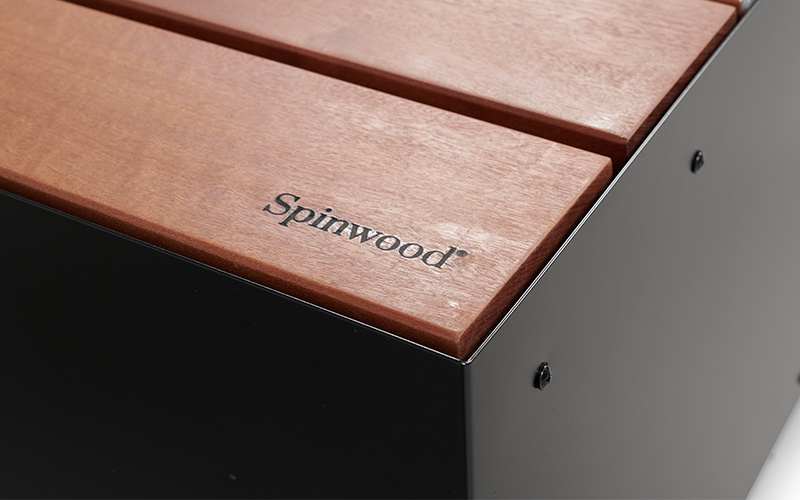 Durable Mahogany sapele
Durability, longevity and quality are paramount at Spinwood. Our boards are made from specially selected wood species. Mostly tropical hardwoods that are suitable for outdoor use. We choose responsibly beautiful wood that has a warm appearance and guarantees a long lifespan. Read more
Weather-resistant steel
The black frame is made of sheet steel, then laser-cut, electro-galvanised and double-coated. This provides a protective layer that even when scratched does not bring the steel into direct contact with the outside air. Thus, rust does not get a chance. Read more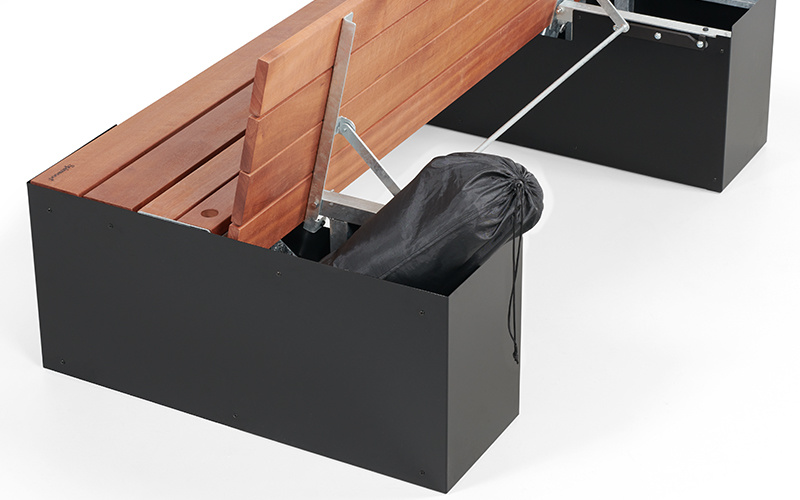 Steel
The black frame is made of sheet steel, then laser-cut, electro-galvanised and double-coated.
Size as hammock
LxBxH 3530 x 970 x 1550 mm
Size as bench
LxBxH 1765 x 970 x 445 mm
Other dimensions
Seat height bench: 44,5 cm
Dimensions of bench with backrest: 1765 x 445 x 835 mm
Size of fabric part of hammock: 2000 x 1400 mm
Fabric part including ropes: 2800 x 1400 mm
Cushion dimensions: 1100 x 270 mm
Size of protection cover: 1000 x 355 mm
Warranty: 10 years on steel and 2 years on wood.
We recommend storing the hammock dry and clean when not in use. This will prevent mould and weathering and increase the life of the product. The hammock can be cleaned with a soft cloth, warm water and natural soap.
The Spinwood furniture is delivered incl hammock, protective cover, cushion, 2 x fastening ropes and 2 musketon hooks.